Nicholas Malone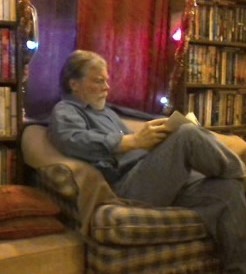 Nicholas "Nick" Joseph Malone, 73, of Zanesville, passed away peacefully following a short stay at Genesis Morrison House on August 11, 2023. Nick was born February 18, 1950, in Zanesville, the son of Joseph and Marsha (Miller) Malone.
Nick grew up in Zanesville, graduating from Bishop Rosecrans High School in 1968. After a short stint in the United States Navy, he studied at Ohio University. He lived and worked for a period of time in Columbus, and spoke often about his experiences as a counselor working with troubled youth at the Buckeye Boys Ranch. After moving back to the Zanesville area, Nick became the computer coordinator of Adult Education at Mid-East Career and Technology Center, and worked there for almost 10 years. In 1995, he founded the love of his life, Shanachie Books, and was a fixture at the Linden Avenue bookstore for the past 28 years.
Nick loved Notre Dame Football, Cincinnati Reds Baseball, his cats, playing golf, telling stories (a Shanachie is an Irish Storyteller), and just being a proud Irishman. You could always stop by the bookstore for a shot of Bushmill's, especially on St. Patrick's Day, or a cup of wassail over the Christmas holiday season. Nick's sense of humor, wit, and friendship will be missed by all who knew him.
Nick is survived by his sister, Mary (Scott) Pitts; brother, Jerry (Angie) Malone; many cousins, nieces, nephews, grandnieces and grandnephews; dear friends, Ed and Kris Geis and their daughters, Randy and Carly, and his beloved cat, Fiona.
In addition to his Parents, Nick was preceded in death by his sister, Patricia Malone; his grandparents, Nicholas and Genevieve Malone and Evertt and Gertrude Miller.
Friends may call 4:00 to 7:00 PM, Monday, August 21, 2023, at the Hillis, Combs & Nestor Funeral Home, 935 Forest Avenue, Zanesville, and one hour prior to service from 10:00 AM to 11:00 AM. Funeral Services will be held 11:00 AM, Tuesday, August 22, 2023, at the funeral home with Fr. David Young officiating. Burial will follow in the Malone Family Plot in Mt. Olive Cemetery. Following committal services a reception with lite refreshments will follow from 1:00 to 3:00 PM, at Shanachie Book Store, 1673 Linden Avenue, Zanesville. Memorial contributions may be made to the Muskingum County K-9 Adoption Center, 1854 East Pike, Zanesville, or Muskingum County Animal Shelter Society, 1430 Newark Road, Zanesville, Ohio 43701, in Nick's memory. To sign the online guestbook or leave a personal note of condolence please visit www.hilliscombsnestor.com