Joyce A. Minch
September 18, 1930 ~ August 1, 2023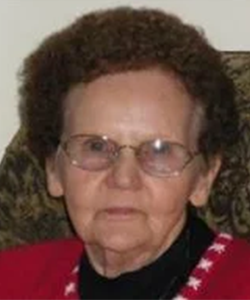 Joyce A. Minch, age 92, of Lake, Michigan died at her home on Tuesday, August 1, 2023. She was born the daughter of the late Lawrence and Annabelle (Young) Schindler, on September 18, 1930 in Zanesville, Ohio. Joyce married Earl F. Minch on May 7, 1948 and they lived together in Burton, Michigan before relocating to Lake, Michigan in 1985. She was a loving mother, housewife & homemaker. Joyce was a good cook and enjoyed watching cooking channels during her spare time in addition to her "story", General Hospital. She also liked vegetable & flower gardening. She was a privileged member of T.O.P.S. – Lifetime K.O.P. for 37 years. Joyce persevered in petitioning to construct her dirt road into an asphalt-paved road. She enjoyed long walks year-round, playing Bingo, taking day & casino bus trips on Jag Motorcoach. Her hobby was stained glass and she delighted in giving away her beautiful works of art, especially angels.
She was recognized by the Clare County Council on Aging for her volunteer work. Her fundraising efforts helped to open the congregate dining and activity center at the D.A.V. hall in Lake and she fought to keep it operating. She enjoyed going to yard sales, especially in search of Bingo prizes (stuffed animals and longer length necklaces) for the nursing home residents.
Joyce is survived by her son, Gary (Debbie) Minch; 2 daughters, Gale (Robert) Blanckaert and Gay Ann Messier; 3 grandchildren; 2 great grandchildren and 1 sister Rosemary (Bob) Hoadley of Zanesville, Ohio.
Joyce was preceded in death by her husband of 50 years, Earl Minch; her son, George (Linda) Minch; 2 brothers, Larry (Ginger) Schindler; Paul (Liz) Schindler; 2 sisters, Ilene (Johnny) Murphy and Martha (Randall) Carpenter.
Joyce's desire to be cremated has been honored. Arrangements were handled by Stephenson-Wyman Funeral Home. On-line condolences may be left at 
www.stephenson-wyman.com
. A memorial is being held at the D.A.V. Chapter 105 in Lake, Michigan on Friday, August 11, 2023 at 11 A.M. Joyce's family thanks Dennis Light, whom she loved like a son, for the excellent care he provided during her last days.
To send flowers or a memorial gift to the family of Joyce A. Minch please visit our Sympathy Store.