"Planting Awareness" for Overdose Awareness Day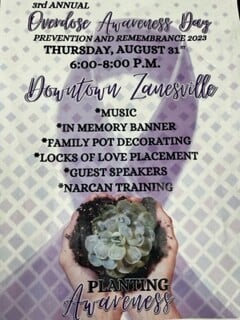 ZANESVILLE, OH – Drug Free Muskingum County and the Zanesville Muskingum County Health Department are teaming up for their 3rd Annual Overdose Awareness Day. 
Organizers met with the Muskingum County Commissioners to discuss what this year's event in late August will include.
Overdose Awareness Day is to take place on Thursday, August 31st but Co-Founder of Drug Free Muskingum County Monica Batteiger says there will be events everyday from August 28 through Friday September 1st. 
"We are extending Overdose Awareness Day for a week this year from Monday to Friday, from August 28th through August 31st.' Batteiger says, "So we are doing 'Wear Purple Day,' 'Change your social media frame day.' We are just trying to extend Overdose Awareness Day for a week this year."
The theme for this year's Drug Awareness Day is "Planting Awareness" where families will be able to replant a succulent in a white pot that they can then decorate in honor of a lost loved one. 
The event will be held in downtown Zanesville on August 31st from 6:00 P.M. to 8:00 P.M. and will feature guest speakers, locks of love placement, and Narcan training.
For more information on the event check out the Drug Free Muskingum County Facebook page.