Richard Calland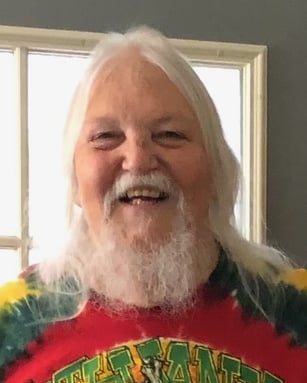 Richard Shepard Calland, RN, 72, of Zanesville, died at 6:58 P.M. on Wednesday, August 3, 2023, at Genesis Hospice Morrison-House. He was born October 1, 1950, in Columbus, Ohio, son of the late Albert M. and Nancy (Shepard) Calland II. Richard loved life. Family and friends were his treasures. He was an avid reader and especially enjoyed the Science Fiction genre. Embracing the hippie motto "Peace, Love and Rock in Roll" He loved, The Grateful Dead, Bob Dylan, John Prine and many others. Loved his tie-dyed shirts too. He was in high school when his family moved to Zanesville. With his beautiful singing voice, he enjoyed choir and performed in Bandwagon show. He loved to fish and play cards, drink and storytelling with the gang. He chose nursing after starting a job at Good Samaritan Hospital where he met his wife. He was an RN for forty years specializing in physical rehab. He stayed at the "bedside" because of his love of people not "paperwork". He will be missed by his wife, children, family and friends.
He is survived his wife Linda C. (Fomenko) Calland, whom he married, June 18, 1976; three children, James "Jim" Fredrick Calland, Samantha (Matt) Bubenchik, Charles Richard Calland; one brother, Joseph (Ann) Calland; many loved nieces and nephews; friends, Frank Hartley, Jeff Rose, Mike Davis, and all the poker guys.
In addition to his parents he is preceded in death by his brother, Admiral Bert Calland.
Friends and family may call from 2:00-6:00 P.M. on Tuesday, August 8, 2023 at the BOLIN-DIERKES FUNERAL HOME, 1271 BLUE AVENUE, ZANESVILLE where funeral services will be held at 11:00 A.M. on Wednesday, August 9, 2023, with Chaplain Tim Patton officiating.
To send a note of condolence, or to order flowers or comfort food: visit www.bolin-dierkesfuneralhome.com, follow us on Facebook, or call our professional staff at (740)452-4551.