Taste & See event coming to the Muskingum County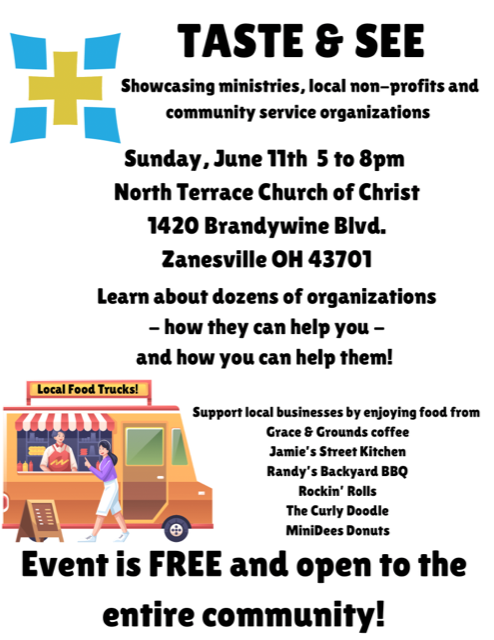 ZANESVILLE, OH- The North Terrace Church of Christ in Zanesville will be hosting their very first annual Taste and See event this weekend. 
The Taste and See event provides the community with the opportunity to come together and learn more about local, national and international non-profits, community service agencies, and ministries. 
"We're really excited to have what we hope is our first annual Taste and See event at North Terrace coming up on Sunday from 5 to 8 p.m. it's just an opportunity for a lot of local non-profits, community service organizations, even some of our international mission partners to come and showcase to the community what services they offer, what missions they do, and we're also going to have six food trucks with us, so it's gonna just be a great evening to come out, visit all these local organizations and get some great food," said Stephanie Hill, Community Engagement Coordinator.  
The event will take place rain or shine. If it happens to rain the event is to be moved indoors. 
"We have around 50 organizations that are gonna be there, so everything from local non-profits like the animal shelter and East Side Community Ministries to missionaries that we support that are church planners in New Zealand, a mission that's doing work in Ukraine and everything in between," 
If you are interested in attending the event, be sure to stop by Sunday. If you have any further questions, you can contact North Terrace Church of Christ at (740) 453-2951.