The Barn to host fundraiser for local farmers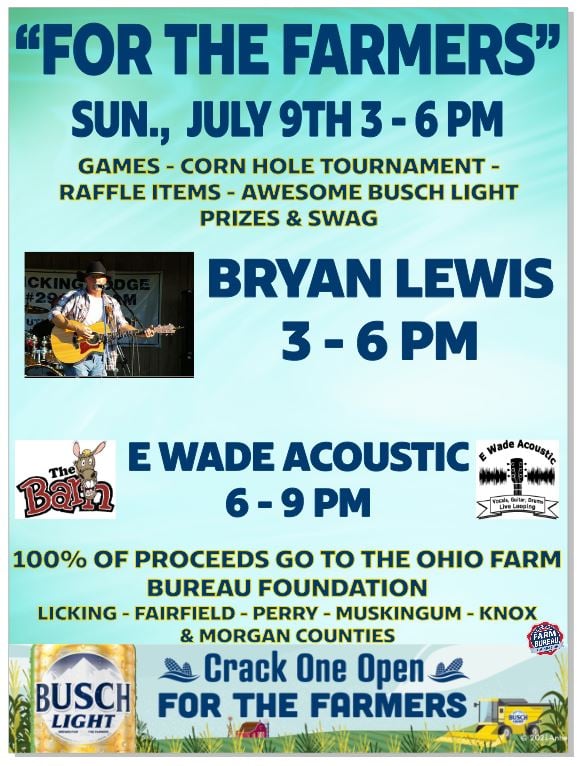 ZANESVILLE, OH- The Barn will be hosting the "Fun For Farmers" fundraiser in partnership with Matesich Distributing Company on July 9th , 100% of the proceeds will go to the Ohio Farm Bureau Foundation to help the local farmers. 
Farmers have been the backbone of our country since the beginning, and it is important to support them so they can continue to help our country flourish. The Barn and Matesich Distributing Company both believe strongly in helping the farmers. 
"So it's super exciting for us to be a part of that, and you know The Barn has always had all walks of life coming in here and definitely a lot of farmers feel comfortable coming down here and having a good time, we have some great live country music lined up for the day. Starting at 3 o'clock we're gonna have local sensation Brian Lewis, and then we're gonna end up the day with E Wade Rodriguez from Cambridge, so really just a lot of great country music and it's gonna be a great time," said Jim Watson, Owner of The Barn. 
The event will feature lots of activities such as live music, raffles, games with prizes and a cornhole tournament. The Barn will also have their selection of alcoholic beverages and food available
"Well we've got a lot of door prizes, we're gonna have raffle items, we are gonna have a best cornhole throw tournament, so we make it easy on people to just come on down here and have a good time and raise some money for the Ohio Farm Bureau Foundation, all the money that we raise from these events stays here in the communities and counties where we hold these events, cause we think it's important because farmers are the backbone of America, and this way, Busch Light has always been a proud sponsor of Farm Bureau Foundation, so this is our way of saying let's keep the money right here in the counties in which we live and work," said Kelly Jones, Director of Marketing for Matesich Distributing Company. 
For more information regarding the upcoming event be sure to visit The Barn's Facebook page.