Commissioners Recognize Efforts Made By Local Eagle Scouts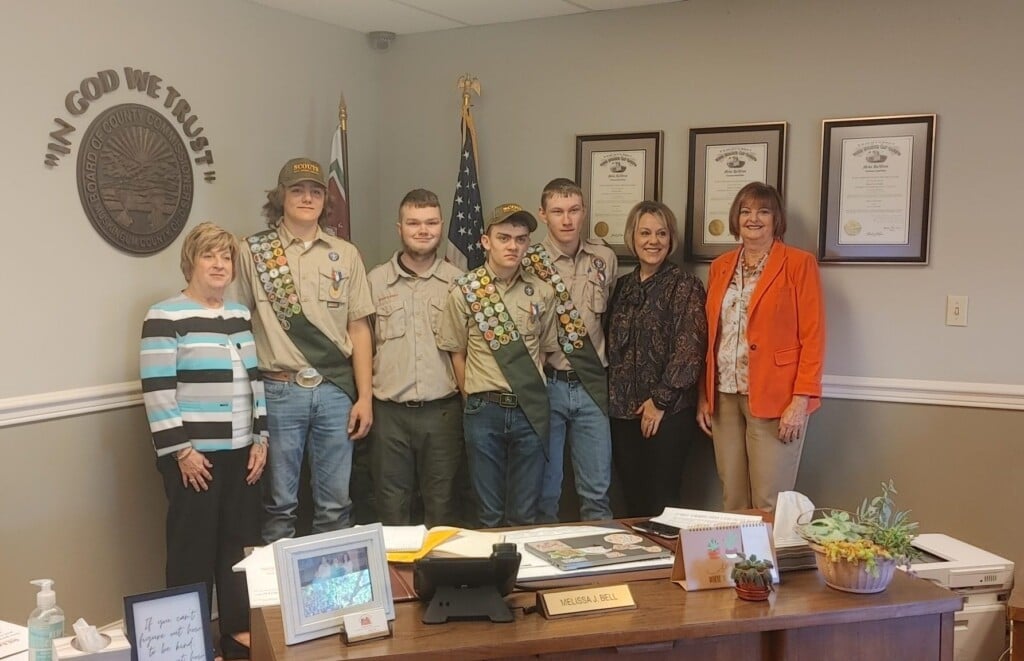 ZANESVILLE, Ohio – The Muskingum County Commissioners signed a proclamation today that recognizes and honors the efforts made by local Eagle Scouts to better their community and four members of Adamsville, Troop 122, who have earned the highest rank that Boy Scouts of America designates, were on hand to discuss their projects, their efforts and their accomplishments with the commissioners.
Scouting Volunteer Susan McDonald noted that earning merit badges and completing community service projects is how scouts advance their rank and that four of the eight scouts in the troop are Eagle Scouts.
"My joy has been to watch these boys mature and grow and now I see them picking career fields that they learned the skills in scouting," Susan said "And that is going to make them productive citizens in this community and they're going to give back, whether they're going to be leaders in their church, their 4-H clubs, their jobs or their Boy Scouts. And that is my number one goal."
Aaron McDonald is 16-years-old and serves as the Troop's Scribe. He talked about earning Merit Badges and completing service projects toward earning his Eagle rank as well as discussing the benefits scouting offers.
"I would say it's fun," Aaron said. "Great experiences, there's a lot of variety of Merit Badges for people who like certain things such as woodworking, rifle shooting, swimming, just a lot of great experiences you can have. I just believe all the Merit Badges, just because that's a lot of skills you can learn and it helps you in the long run."
All of the service projects from the Eagle Scouts in the troop centered around improvements to the Tri-Valley Wildlife Archery Range as well as improvements to Gaumer Park in Adamsville.