Kay Garber Memorial Ride to take place at The Barn to support American Cancer Society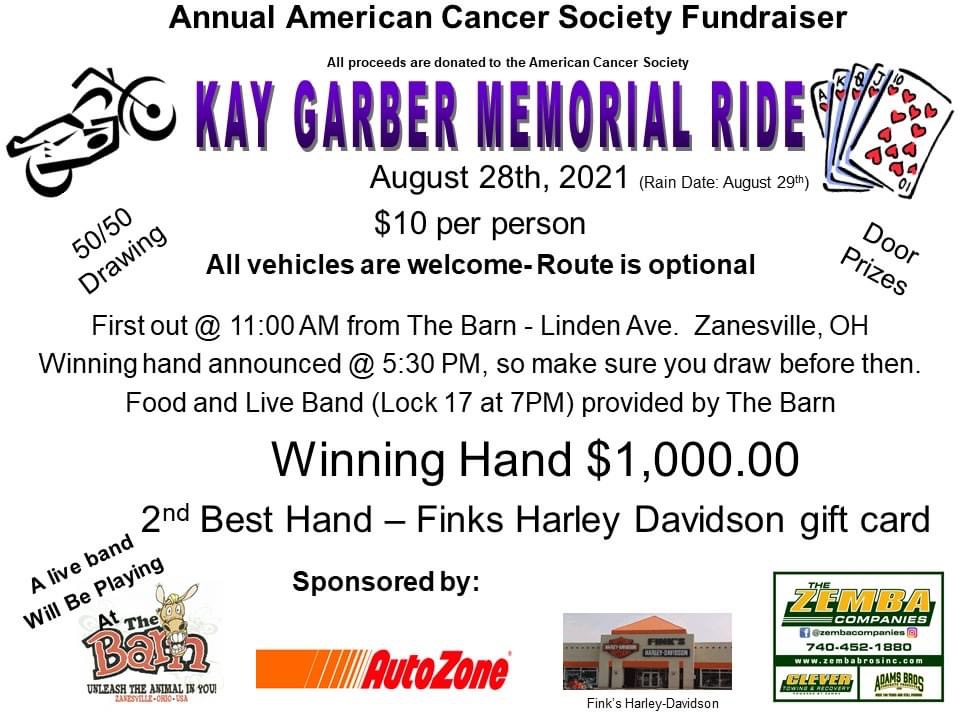 MUSKINGUM COUNTY, Ohio- The Barn invites everyone to come out to its 14th annual Kay Garber Memorial Ride on Saturday to support the American Cancer Society.
Kay Garber was a worker at AutoZone for several years and passed away from cancer.
The event is a way to raise awareness and money for the American Cancer Society, as cancer is one of the leading causes of death among individuals in the United States.
"It's a ride for life and we want to celebrate life and we want to recognize the people who have worked through cancer and fought for a cure, as well as those people who are survivors and recognize them as well with the ride," The Barn owner Jim Watson said.
It's a great event for the community to come together and have a fellowship.
The band Lock 17 will be performing as well as several festivities.
A poker run will take place and the person with the best hand will receive $1,000 and second place will receive a Fink's Harley Davidson gift card. Several businesses have come together to take part in the event.
"We're very proud to be a member of this for the last 14 years and we'll continue to grow and raise money for a good cause," AutoZone maintenance manager Randy Porter said.
The ride will take place at 11:00 a.m. on Saturday with Lock 17 performing at 7:00 p.m. The winning poker hand will be announced at 5:30 p.m.