Local Officials Listen To Speech On Victim Rights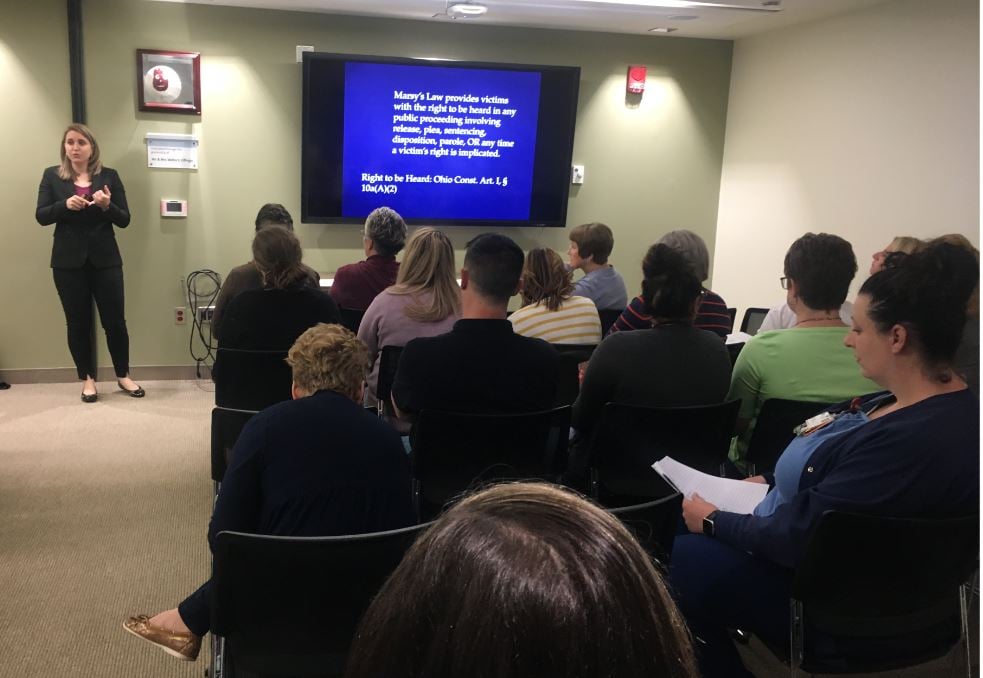 ZANESVILLE, Ohio – in 2017 voters in Ohio passed Marsy's Law, this expanded and enhanced a crime victim's legal rights in the State of Ohio.
Ohio Crime Victim Justice Center Legal Director, Elizabeth Well spoke today at Genesis Hospital explaining Marsy's Law. Well said it is important for Law Enforcement, as well as lawyers, nurses and more, to know all about Marsy's Law and the rights that go along with it.
Well said "The rights to be notified of proceedings, the right to be present at proceedings, and to speak directly with the court are all some of the rights that Marsy's Law protects, as well as rights to victim's privacy. All of those rights really help encourage victims to participate in the process and protect them while they are in the process, because of course they are the innocent third party in the criminal justice process and they deserve protection through our laws.
Elizabeth Well was very pleased with the turnout for her presentation and the variety of occupations represented. This included nurses, victim advocates, representatives from prosecutor offices, law enforcement, courts and more. Muskingum County Victim Advocate, Dorothy Thomas said she was there to expand her education on Marsy's Law. This will help her pass her knowledge onto her clients and explain their rights to them.
"Well, because I know it came out and I know some of it, but this is the first time I've gotten to go to a training to really understand how much more is involved now of notification of victims and just making sure their rights aren't being violated," said Thomas.
Well said the Marsy's law has opened up new rights for victims, and has also solidified prior rights even more.